Rolls-Royce the ultimate Class in car ….
Explore luxury
Rolls-Royce Limited is a renowned British car-manufacturing and, later, aero-engine manufacturing company founded by Charles Stewart Rolls and Sir Frederick Henry Royce on 15 March 1906 as the result of a partnership formed in 1904. In addition to the company's
reputation for superior engineering quality which has led to its epithet as the "best car in the world", Rolls-Royce Limited was known for manufacturing the high-powered "R" engines responsible for land and air speed records as well as successful performances in automobile racing.
In 1971, Rolls-Royce was crippled by the costs of developing the advanced RB211 jet engine, resulting in the nationalisation of the company as Rolls-Royce (1971) Limited. In 1973, the car division was separated from the parent company as Rolls-Royce Motors. Rolls-Royce (1971) Limited continued as a nationalised company until it was privatised in 1987 as Rolls-Royce plc
---
Ghost
Alive with cutting-edge technology,
Ghost is one of the most advanced cars ever built. The essence of simplicity with signature levels of luxury, Ghost and Ghost Extended Wheelbase forge a silent path of serenity with no ordinary power. Which leaves only one question: drive or be driven?
Extraordinary may be a high standard to set. But, in the case of Ghost, it is merely the benchmark. Advanced engineering and a host of hidden technologies make Ghost modern and dynamic. And its endless surge of power and whisper-quiet ride set it streets apart from other motor cars.
Every detail is precisely engineered for an effortless driving experience: one that becomes intuitive as technology delivers more intelligence than ever before. But Ghost is about more than what lies beneath the bonnet.


The design at the front brings poise and verve, while the luxurious interior – with soft, supple leather and indulgent lambswool floor mats – cossets you from the outside world.
Uncompromising, never ordinary, Ghost and Ghost Extended Wheelbase offer an effortless and immersive experience.
---
Phantom
A commanding presence, Phantom Family encapsulates contemporary luxury. Its signature design is complemented by modern features, with the potential to personalise it to the smallest detail. Born of the desire to build The Best Car in the World,
Phantom is the result of complete creative and engineering freedom.
When it came to designing the current Phantom Family, it's fitting that the influence came from Sir Henry Royce himself: "Strive for perfection in everything you do. Take the best that exists and make it better. When it doesn't exist, design it." From that challenge, Phantom was born. And the result is the definition of automotive design and technological perfection.
Phantom is a timeless interpretation of the modern luxury motor car. With its powerful stance, iconic proportions and state-of-the-art technology, it's the signature Rolls‑Royce. The engine delivers an abundance of effortless power – a magic carpet-like ride – that creates a driving
experience like no other. But the pleasure begins even before you own a Phantom, as you can choose the personal features to make your motor car truly unique. This is a motor car to be commissioned, to represent your personal expression.
---
Wraith
Designed to redefine boundaries, Wraith hosts the most powerful Rolls‑Royce engine ever. Wraith is an imperceptible force, inspired by the words of Sir Henry Royce: "Take the best that exists and make it better."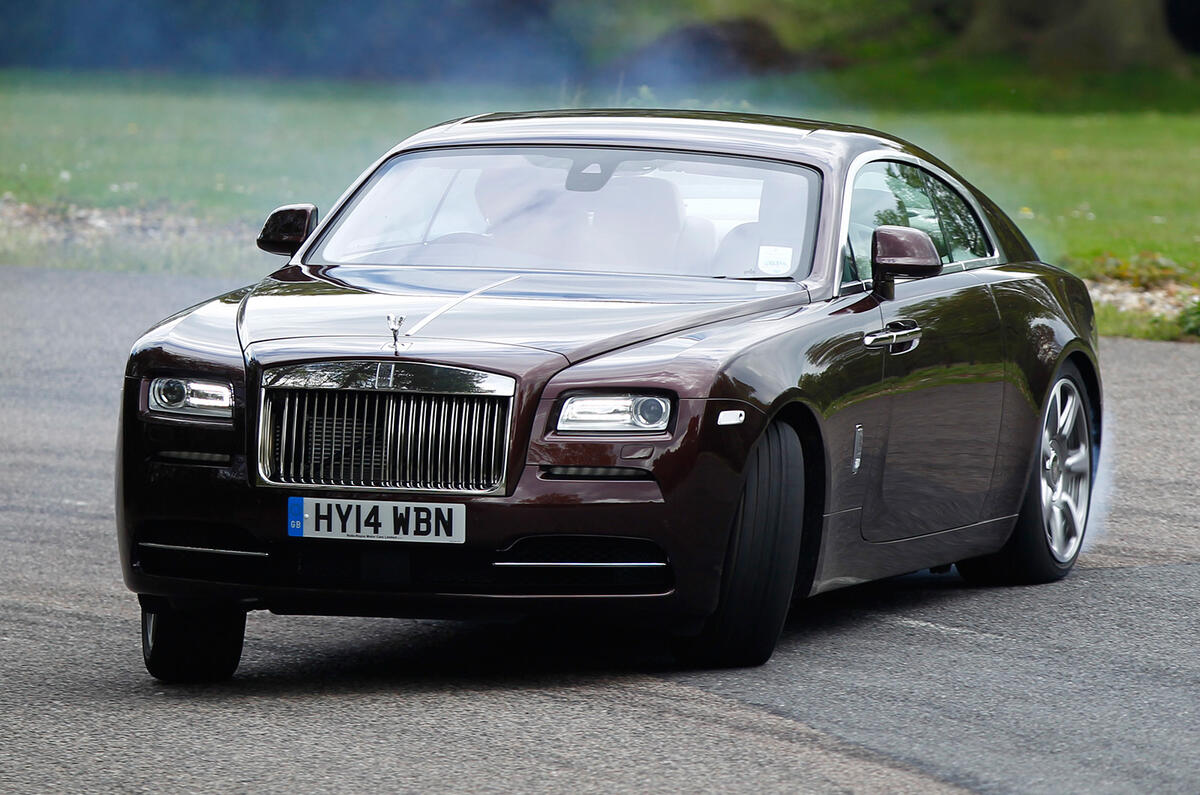 Unashamedly built to deliver, it challenges perceptions and offers the most dynamic driving experience in the marque's history.
Born to be Bespoke
Take to the road in style with your unique expression of Wraith. Drench it in the two-tone colour scheme you've always dreamed about. Make a statement with contrasting coachlines. And bring the night sky inside with a Bespoke Starlight Headliner. The canvas is yours.
---